Stories
CWA Exposes Frontier Communications' Dangerous Use of Subcontractors in New Half-Million Dollar Ad Campaign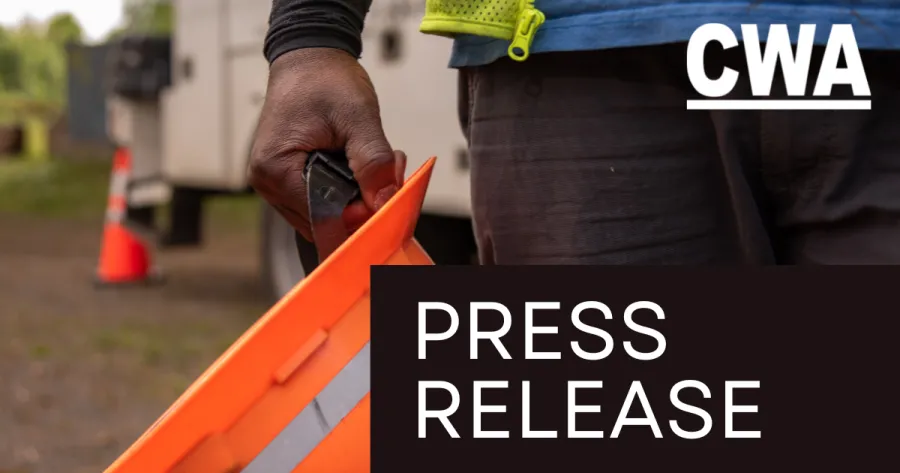 Communications Workers of America
Contact: Rendy Desamours, rendy.desamours@berlinrosen.com, 516.406.6637 or Sherri Jefferson, SBrooks-Jefferson@cwa1298.org 
 
CWA Exposes Frontier Communications' Dangerous Use of Subcontractors in New Half-Million Dollar Ad Campaign
Just over a year after emerging from bankruptcy, Frontier is increasingly outsourcing good union jobs to unregulated subcontracting companies, putting public safety at risk;
Communications Workers of America members across California win agreement from Frontier after striking over the issue
Nationwide -- The Communications Workers of America (CWA) has launched a half-million dollar advertising campaign exposing Frontier Communications' increasing and dangerous use of subcontracting companies to perform critical broadband infrastructure work. Frontier management's aggressive attempt to displace its union workers and squeeze out good union jobs following the company's emergence from bankruptcy in April 2021 is resulting in damage to communities amid botched rollouts.
"Instead of using its clean slate to provide more good-paying jobs with healthcare and retirement benefits, Frontier is using its second chance to divest in its workers," said CWA District 1 Vice President Dennis Trainor, who represents roughly 1,600 workers in Frontier's home state of Connecticut. "Amid a nationwide broadband buildout -- one that the federal government has invested over $65 billion in through the infrastructure bill -- this is wholly unacceptable. Many of these contractors come from out of state, are paid a fraction of what CWA union members earn, and the state has no oversight of them when it comes to public safety or quality of work."
Last night, CWA members in California won an agreement from Frontier in which the company has committed to taking significant steps to adhere to subcontracting limits set in its collective bargaining agreement. The agreement is the result of approximately 2,000 union-represented Frontier workers walking off the job across California in a grievance strike on Friday.
"Frontier's blatant disregard for their union workers is completely unacceptable. I stand with the CWA in calling for an end to the shoddy, cost-cutting practices that are harming their hard-working employees and putting our communities at risk," said U.S. Senator Richard Blumenthal. "The Bipartisan Infrastructure Bill invests $65 billion to extend and enhance broadband infrastructure. This effort ought to be led by our seasoned and highly-skilled union workers, rather than commission-based contract workers that are simply hired for lower pay."
"Over and over, Congress has been clear that federal dollars need to flow to high quality, local union jobs, and the funding for broadband improvements in the Infrastructure Investment and Jobs Act is no exception. I'm proud to stand with CWA Local 1298 in their fight to hold Frontier accountable by protecting Connecticut union jobs over out of state contractors," said U.S. Senator Chris Murphy.
CWA members fought tirelessly in 2021, state by state, to secure conditions around Frontier's emergence from bankruptcy that would protect union jobs and commit Frontier to capital investments and fiber deployment in overburdened and underserved communities. Now, CWA members, who are highly skilled and trained to perform public right-of-way work and experienced in safely navigating infrastructure, are now often only utilized to perform repair work, last-mile installations or technical support when the contractors inevitably fail or fall short.
Subcontracting companies often do not provide a high level of training to temporary workers, especially when it comes to safety and navigating other municipal infrastructure they may be working around. As a result, subcontractors with Frontier have put the public in harm's way. Within the past year alone:
"We have to protect union jobs – that is not up for debate," said U.S. Representative Rosa DeLauro. "I am proud to stand with the Communications Workers of America in this fight. CWA members are highly skilled workers, yet Frontier has only utilized them to perform jobs like repair work and last-mile installations to make up for shoddy, cheap contract work. This robs hardworking union employees of their dignity of work. Frontier is gutting their union workforce, all so they can boost their profits while keeping the cost of labor as low as possible. You have my word that I will always stand with CWA in the fight to protect union jobs here in Connecticut and across the country."
"I stand with CWA Local 1298 as they fight back against Frontier's unfair practices that are hurting both workers and consumers," said U.S. Representative John B. Larson. "Through the Bipartisan Infrastructure Law, the federal government is investing $100 million to build out Connecticut's broadband Internet coverage with union labor. Now, Frontier needs to hold up their end of the bargain."
"CWA members provide our community with essential services they need to stay connected and safe, and they deserve respect, along with fair contracts from their employer," said U.S. Representative Joe Courtney. "During the pandemic, CWA members entered peoples' homes to repair telecommunications equipment necessary to enable virtual learning, telehealth visits, and continued engagement with family and friends at a time when uncertainty about the virus made that a dangerous and incredibly demanding job. As the economy took a hit, they tempered wage increase requests in order to ensure long-term stability for their jobs as Frontier weathered bankruptcy. I support CWA members and their right to use their collective voice to demand fair treatment from their employer now and in the future."
In addition to taking work away from CWA's union membership, Frontier is building its profits shadily, breaking its promises to the union and offering buy-outs to seasoned union workers, attempting to avoid overtime pay, and manipulating compensation plans for commission-based workers.
"When they emerged from bankruptcy, Frontier was given a second chance with their expansion of fiber broadband connections. But instead of providing those opportunities to Connecticut workers and protecting union jobs as discussed during legislative negotiations, their show of good faith seems to be a promise unkept," said Lt. Governor Susan Bysiewicz. "Instead, untrained, out-of-state contractors are being used to circumvent costs. The Communication Workers of America (CWA) are the collateral damage of these broken promises, even after securing a provision under the bill's Internet for All initiative that gives a preference for using union labor to build broadband. It's time that Frontier makes good on that promise."
"In the past year, Frontier Communications has failed to achieve its promises to consumers. To save on costs, Frontier has begun to cut corners, using lower-tier contractors and neglecting its workers," said Connecticut State Senator Jorge Cabrera. "This is especially important to our constituents as Frontier has been cited as conducting "reckless" practices in Connecticut and fined $5 million. I am disappointed to hear that Frontier is continuing to ignore its valuable  workers and will be supporting CWA in its efforts to hold Frontier accountable"
"To truly reach our shared vision of "Internet for All," Frontier must be held accountable to deploying high-speed fiber-to-the-home to the communities that need it most, and using trained union labor from those already eager for work in our state," said Connecticut State Senator Julie Kushner. "With the influx of federal and state broadband funding, Connecticut has a once-in-a-lifetime chance to build new, expansive broadband infrastructure, and build it right. We cannot risk a haphazard broadband buildout by unskilled contractors who lack the necessary training or expertise, often cut corners, and risk safety and the quality of high-speed internet."
The campaign was announced at a press conference Thursday in Hartford, Connecticut, Frontier's home state of operations.
"Frontier Communications broke its promise. Instead of maintaining its experienced, Connecticut-based workforce, Frontier has cut hundreds of good jobs and replaced them with under-trained, out-of-state contractors — putting service quality and public safety at risk," the ad running in Connecticut says.
The ads are running on local television, radio, and digital platforms beginning today across Connecticut, California, Florida and Texas. The Communications Workers of America represents roughly 8,000 Frontier employees nationwide.
"Frontier has a responsibility to their workers and to the residents of Connecticut," said Connecticut State Senator Matthew Lesser. "As a long time customer and a member of the Energy & Technology Committee, I will continue to ask tough questions and hold their feet to the fire." 
"Frontier's attempt to replace highly skilled union workers with lower-cost, under-trained contractors is a misguided attempt for more profit, that presents a concern for public safety and will only cost our municipalities and taxpayers in the long run," said Connecticut State Representative Josh Elliott. "Instead of hiring hundreds of contractors from out-of-state, Frontier should be providing more good-paying jobs with healthcare and retirement benefits that help families to become upwardly mobile here in Connecticut."
Connecticut State Representative David Arconti added, "I am disappointed that Frontier has decided to put profits over commitments to its union workforce when contracting for building major broadband work, ignoring earlier warnings from Connecticut regulators about their unsafe excavations and improper practices which resulted in a $5 million fine back in July. I stand in full support of CWA members and urge Frontier to reconsider their priorities when it comes to delivering for those who have supported the company through their toughest times. Union workers are equipped and capable of handling any projects that need to get done."
###
About CWA: The Communications Workers of America represents working people in telecommunications, customer service, media, airlines, health care, public service and education, manufacturing, tech, and other fields.
cwa-union.org @cwaunion
CWA Exposes Frontier Communications' Dangerous Use of Subcontractors in New Half-Million Dollar Ad Campaign